figure parts used: small soldiers Burger King toy (see pic below)

Supplies and Tools used: xacto knife, old military t-shirt, a/b epoxy putty (used) or sculpey (recommended), paint brush, small details paintbrush, white, black, and purple apple barrel craft paints(found a wal-marts for $.44), a bunch of thick thread and elmer's glue, Testors dull or gloss cote

---------------------------------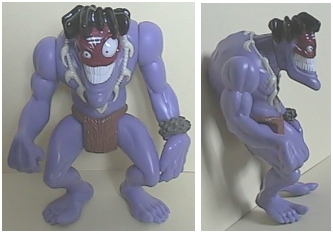 1. First I took the figure and cut off most of his face and hair with my xacto knife.
2. Then using the putty, and looking at my reference pics (most from the last command comics), I shaped and stuck on little parts of his new Nighri face one at a time.
3. I mixed a dab of purple with black and white to make a grey colered skin with a purplish tint.
4. After the paint dried I took the thread and bunched it together into several locks. I then smeared them together with elmers glue to enlargen and keep the locks of 'hair' together. Then I glues each individual lock to the back of his head and tied it with one of those little plastic fasteners that holds the SW action figures in their packages.
5. Then I sprayed him over with testors dull-cote.
6. I then cut out a chunk of the cloth and put a hole in the center for his head. then tied it at the waist with a stip of the cloth for a belt.
Thats about it! If requested i will put up detailed instructions with pics. to see the finished noghri click on the small pic below!